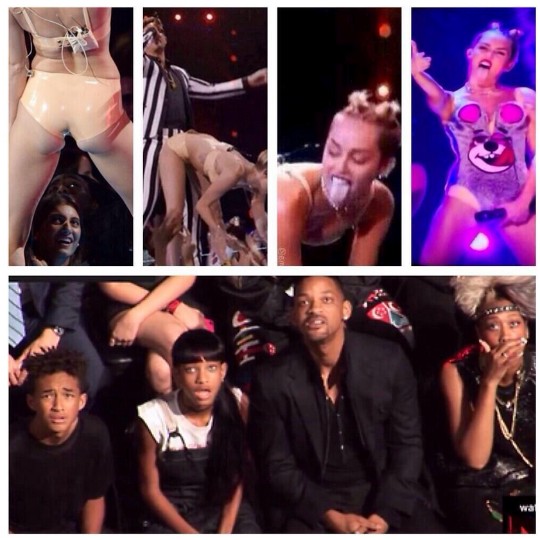 La actuación de Miley Cyrus (@MileyCyrus) en los VMA's va a ser recordada durante mucho tiempo, para desgracia de la cantante.
Hace mucho que Miley Cyrus dejó atrás a Hanna Montana y todo lo que tuviera que ver con su pasado Disney, pero esta nueva imagen de niña mala educada y reberlde se le está yendo de las manos. Lo demostró con el videoclip de 'We Can't Stop' y lo ha vuelto a demostrar durante la gala de los VMA's 2013.
Miley Cyrus se subió al escenario para interpretar en directo 'We Can't Stop'. La escenografía era espectacular: Miley Cyrus saliendo de un oso gigante y un montón de bailarines disfrazados de oso por todo el escenario. La decoración nos hacía pensar en una de esas actuaciones espectaculares, pero que pudiera repetir lo del vídeo nos daba miedo. Pero más allá de un poco de twerking y un par de azotes, la actuación fue bastante moderada...Hasta que Robin Thicke (@robinthicke) salió al escenario para interpretar con Miley 'Blurred Lines'.
Entonces Miley se despelotó, se quedó en ropa interior de color carne (como las chicas del video de 'Blurred lines') y empezó a restregarse contra todo lo que econtró a su paso, Robin Thicke incluido.
The performance of Miley Cyrus (@ MileyCyrus) at the VMA's will be remembered for a long time, unfortunately for the singer.
Miley Cyrus has long since left behind Hanna Montana and everything that had to do with his past Disney, but this new bad girl image reberlde is educated and is getting out of hand. He proved it with the video for 'We Can not Stop' and has again shown during the gala of the VMA's 2013.
Miley Cyrus took the stage to perform live 'We Can not Stop'. The scenery was spectacular: Miley Cyrus leaving a giant bear and lots of bear costumed dancers around the stage. The decor made ​​us think of one of those spectacular performances, but video could repeat what we were afraid. But beyond some twerking and a pair of stripes, the acting was pretty moderate ... until Robin Thicke (@ robinthicke) came on stage to perform with Miley 'Blurred Lines'.
Then Miley despelotó, stayed in flesh-colored underwear (such as video girls 'blurred lines') and began to rub against everything which he found his way, Robin Thicke included.